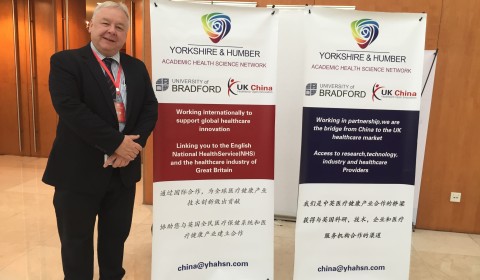 Photo: Andrew Riley CEO Yorkshire and Humber Academic Health Science Network at the end-workshop signing ceremony at the International Bioeconomy Conference in Binhai, China.
Even though it's a couple of weeks since I returned from the Yorkshire and Humber Academic Health Science Network sponsored Open Innovation workshop in Tianjin, China, I'm still nursing the bruises. Not literally of course, but I did wonder if that's what it feels like to do a couple of rounds with Mike Tyson. And win!
The workshop was a resounding success for us, and although I can't speak for others, it looks like it was the same for them. The whole process was unravelled for us through the brilliant stewardship of Paul Thorning and Dr. Qun Shao, both from the University of Bradford. This was the eighth Open Innovation workshop in China that they have run, and they have refined the process almost to perfection. At the outset it seemed nigh on impossible…Get 12 UK and 12 Chinese health technology companies to work together to create ideas and projects for collaboration, and in a fit state to present a funding application to the Tianjin Government? In four days? With all the cultural and language difficulties and the exchange of sometimes complex ideas? How was that going to work?
Well, the fact is, it did work. Very well. Through the highly structured process and utilisation of a bit of ice-breaking frivolity including some magic (don't give up the day job, Paul), the participants soon realised that not only did they have a great deal in common on a technology basis, but also on a cultural basis as well.
The fact is, the UK and Chinese sense of humour and approach to business and friendship are very similar, with openness being the most important ingredient. So with the help of tirelessly good-natured and very professional translators, about a dozen projects were identified that could be worked up into credible propositions for funding by the Tianjin Government. They ranged from some reasonably heavyweight R&D propositions to nearer-to-market technology shares and exchanges, which could bring some very quick benefits to both health economies.
And for THERAPYAUDIT?
Involvement in a couple of projects to leverage TAMONITOR technology, including a Joint Venture with a great Chinese start-up specialising in a device helping with early diagnosis of sleep apnoea. But there will be more. And what a relief to work with a market that's so receptive to new ideas and opportunities. If you are a UK-based healthcare technology company keen to break free of the frustrations of the home market you could do a lot worse than try China. Keep in touch with Yorks and Humber AHSN (thanks Andy and Richard) for more Chinese opportunities. Hats off to them for the foresight to sponsor this great approach.
---