The compelling case for POCD
If you think England faces challenges in providing effective and affordable healthcare in the face of reducing budgets and increasing demand, spare a thought for China. The statistics are eye-watering – a population of around 1.34 billion; health spending projected to grow to $1 trillion in 2020 (1% of GDP pa); about 320,000 hospitals and clinics and over 9,000 medical research institutes; 1.39 million doctors; the world's third largest pharmaceutical market ($75bn in 2014) and a middle class projected to reach 700 million by 2020. With increased prosperity comes increased expectation of quality healthcare, but the treadmill of building more and more hospitals to cater for demand threatens to bankrupt even what is about to become the biggest economy in the world.
Apart from size, the challenges in China are very similar to ours in the UK. Rising demand from an ageing population living with multi-morbidities, especially with the rapid adoption of a more Western lifestyle [1]. But compounding these problems are (at least) two extra complications: fewer young people to care for the older population, and the virtual non-existence a primary care system which means nearly everyone goes to a hospital [2].
In the next few days, we are pleased to be attending the Open Innovation Workshop hosted by the Tianjin Municipal Government and organised by Yorkshire and Humber AHSN in partnership with the University of Bradford. The workshop's theme is Point of Care Diagnostics (POCD) and we will be showcasing our TAHomeCheck service. This new service is focussed on supporting POCD of any kind in providing the 'glue' between people at home, devices and clinicians. Our proposition is overwhelmingly simple – use technology to keep people away from hospital whenever possible. That improves their wellbeing, reduces pressure on secondary care services, and saves money.
Effective technology. Better outcomes.
When we installed our original blood test monitoring solution TAMonitor at Doncaster Royal Infirmary nearly 14 years ago, over 5000 outpatient appointments (for routine blood testing) were saved in the first 12 months. Imagine the impact we could make in China if we scaled that evidence up by using the very best of modern technology – our technology as well as that of others.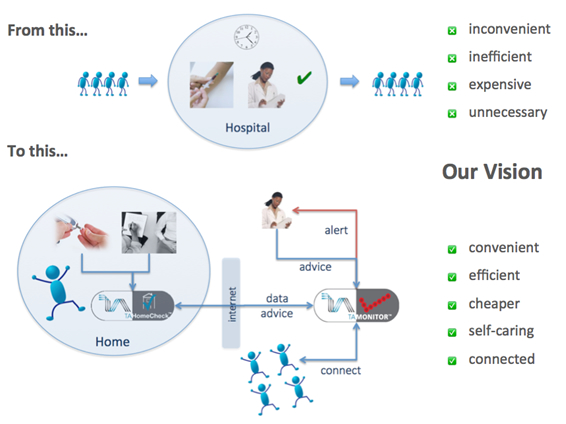 I will be filing daily reports from the workshop, here on the THERAPYAUDIT blog. Stay tuned….
References
China grows fat while embracing Western lifestyle
[USA Today, 8 July 2008]