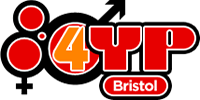 Focus on the 4YP scheme in Bristol
Not so long ago the UK had the highest teenage pregnancy rates in Western Europe and its STI rates were also high. More recently there's been a remarkable decrease in incidences of teenage pregnancy across the UK, although the UK rates are still the highest in Europe. The Office of National Statistics (ONS) report[1] shows that 'Conception rates in England and Wales, for women aged under 18, declined by 8% in 2015 … Under 18 conception rates have declined by 55% since 1998.' There is some debate as to why this decrease has taken place, but one of the main contributory factors must be the prevalence of sexual health advice services like CCARD condom distribution schemes which are now widespread across the UK. However while teenage pregnancy rates are falling, STI rates are rising steeply (up to 76% over 4 years)[2] – particularly in London. So the need for CCARD schemes remains as relevant today as always in protecting young people's sexual health and wellbeing.
TACCARD is THERAPYAUDIT's digital support solution for sexual health and CCARD condom distribution schemes[3]. Essentially we provide a user-friendly digital interface that can be accessed by providers of the service from anywhere there's an internet connection. Young people who benefit from accessing the sexual health service receive a CCARD (like a credit card but only recording their identifier in the TACCARD database), and this enables providers and commissioners to keep track of the distribution of condoms and advice to beneficiaries. This digital support has improved efficiency in collecting data and the reporting of outcome data enormously compared to the more 'traditional' use of paper records.
The city of Bristol has operated a relationship and sexual health service for young people since 2007. Called 4YP[4] (and named by young people in Bristol), it's currently operated by Brook[5] on behalf of Bristol commissioners. Brook is the UK's leading wellbeing and sexual health charity for young people. Brook took over the operation of the 4YP scheme (also a CCARD condom distribution scheme) a couple of years ago. Anne Marie Hilborne leads the 4YP scheme on behalf of Brook, who she's been working with for nine years. We talked to Anne Marie to find out what her experience of using TACCARD has been like.
The operation of the 4YP scheme that Anne Marie and her colleagues inherited was heavily paper-based, using paper forms to collect data for registered 4YP users that had to be transcribed onto a spreadsheet. They found it difficult not only to keep track of the beneficiaries but also provide timely and meaningful data to commissioners. One of the original requests to Brook from the Bristol commissioners was a need to improve the efficiency of data collection and audit for 4YP. So Anne Marie looked for digital support solutions on the internet and that's when she came across TACCARD. 4YP were already using a stock of CCARDS so those are still being used with TACCARD. Initially Anne Marie has been entering the data into TACCARD herself, but now plans to train others to start helping, something that will be helped greatly when the planned online training videos for TACCARD arrive. That should enable a wider number of outlets to participate in the scheme, including GP surgeries. In fact, GPs constitute the largest segment of Brook's outlets. We were intrigued by this observation as GPs are often difficult to engage with when it comes to new IT systems. Anne Marie thinks her success derives from approaching the surgery employee with responsibility for sexual health advice directly, rather than going through practice managers.
"Word getting out has helped as well"
says Anne Marie referring to the GPs' involvement in the scheme. Interestingly pharmacies are not yet directly engaged in collecting data in contrast with mainly of the London schemes that use TACCARD, where pharmacies have embraced THERAPYAUDIT solutions like TACCARD and TASTART due to the common, user-friendly interface.
"TACCARD has loads of benefits that I hadn't imagined when I started using it"
Anne Marie says. There are obviously significant efficiency savings in entering the data directly into a database, although when data is recorded and an internet connection isn't available a paper form is use and transcribed later. But that's very much a backup and relatively rarely used. Another significant improvement has been the way Anne Marie is able to provide effective and transparent information for the commissioners on the impact of the scheme. "The commissioners say that the reports are really high quality" – Anne Marie says. she can also look at the data geographically and she can see where the CCARD scheme hasn't been used, so that 4YP can focus on that area. The wide acceptance of TACCARD in supporting the pan-London come correct[1] scheme hasn't been lost on Anne Marie either. She recognises the benefits of using a database to record out-of-area encounter data, and would like to see a joined-up CCARD usage across Bristol, South Gloucestershire and other neighbouring areas. As in London, the use of a database like TACCARD that tracks out-of-area registrations potentially makes it easy for Councils to cross-charge for services.
All-in-all the use of TACCARD in supporting TACCARD has brought both expected and unexpected benefits. But one thing's for sure – the quality of the service that Brook and Anne Marie provides is made all the more possible using a system like TACCARD. And probably easier to justify financially.
If you're involved in the administration of a CCARD scheme and would like to benefit from our digital support, contact us now on 0800 756 1087. Other schemes that use TACCARD for digital support include: come correct (pan-London 20+ Boroughs) – www.comecorrect.org.uk/; Cambridge, Norfolk, Suffolk – c-card.areyougettingit.com/;