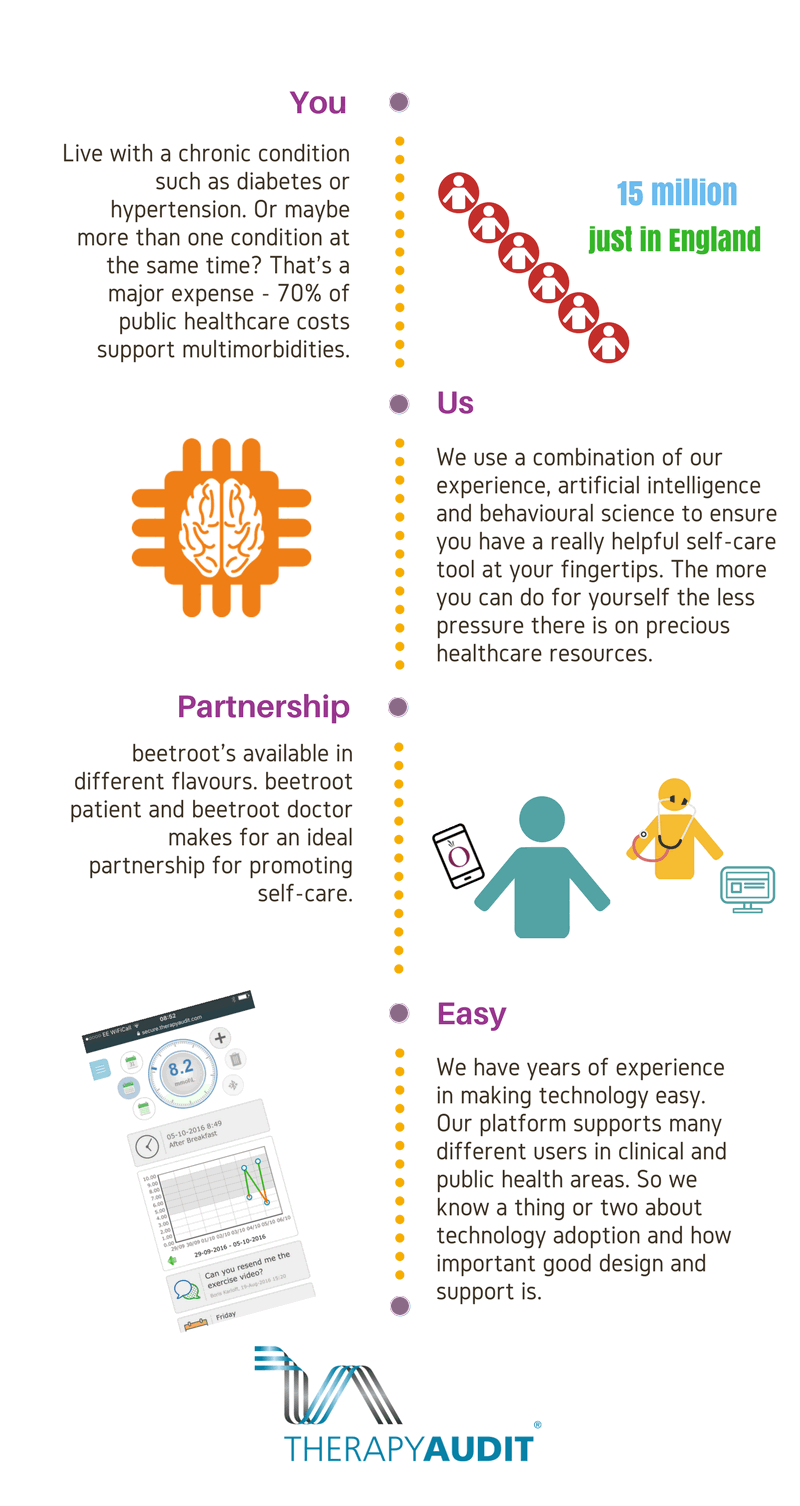 Why beetroot? What's so great about you?
beetroot's not just another healthcare app. It's an intelligent management system for both doctors and their patients.
So what's in it for doctors?
For the beetroot doctor user there are management functions such as assigning patients to healthcare professionals that make it useful in a clinic environment, and especially useful for private healthcare companies.
And for patients?
A way of communicating and sharing their healthcare metrics with their doctors, family members and friends. And their quality of life details - sharing how they feel.
I still don't see how this is any different from thousands of other apps.
We're mixing tried and tested technology with leading edge techniques like behaviour change and machine learning. beetroot is based on our successful rules-based blood test monitoring platform. We've been around for many years and our customers trust us. But technology is developing all the time to improve the provision of healthcare support through that technology. beetroot is an evolution of that established platform. It extends rules-based algorithms by using machine learning to teach the algorithms how to deliver more focussed advice to patients. So we can provide 'proactive' assistance as well as the more traditional 'reactive' monitoring.
I see you refer to diabetes. Does beetroot just support that single chronic condition?
No. This is another ambition that makes us different. beetroot will have the capability to support multiple conditions within the one interface. And at the core of all chronic conditions lies some simple interventions that can provide disproportionally high returns, such as smoking cessation, weight management, and activity improvement. So we're building those features into our core beetroot offering, and then we'll provide a simple way to 'enrol' patients on more than one condition-specific feature.
Who do you think will use beetroot?
We think there's a market in public and private healthcare settings. So a busy public health setting where management of chronic conditions is important. With a view to promoting patients to self-care to avoid them having to visit hard-pressed doctors and clinics so often. And in the private healthcare setting the combination of beetroot doctor and beetroot patient provides a self-contained management system.